O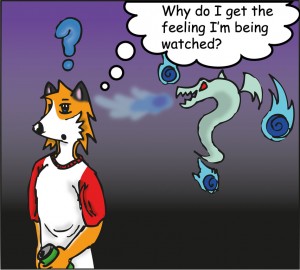 keda Valley is a western manga series that takes place on a mythical continent called urikuni (Melon Country), The strip primarily chronicles the awkward teenage years of Kazuki Shibatta, a young fox who moves out to Okeda Valley "The Animal Village" to find out more about his parents and himself. However, the series is also planned to sport numerous special issues consisting of side-stories focusing on characters other than Kazuki himself.  Okeda valley's style is a mish-mash of pop, movie, video game, and internet culture blended together for entertainment purposes. The strip focuses on family friendly entertainment and is suitable for ages 10 and up.
Latest Issues 
Issue 0: Okeda Valley Origins (In progress) – Chronicles how Kazuki came to Okeda Valley, how he met his pet, and introduces some of Okeda Valley's residents.
Issue 1: It Came From Beyond the Refrigerator – Bad food takes on a life of its own as Kazuki soon finds out in this 6 page short.
Issue 2: Out of Bounds (In progress) – Written and Illustrated as a Tribute to Earthbound for SNES, an alien space craft crash lands in Okeda Valley and Kazuki sets out to investigate things.